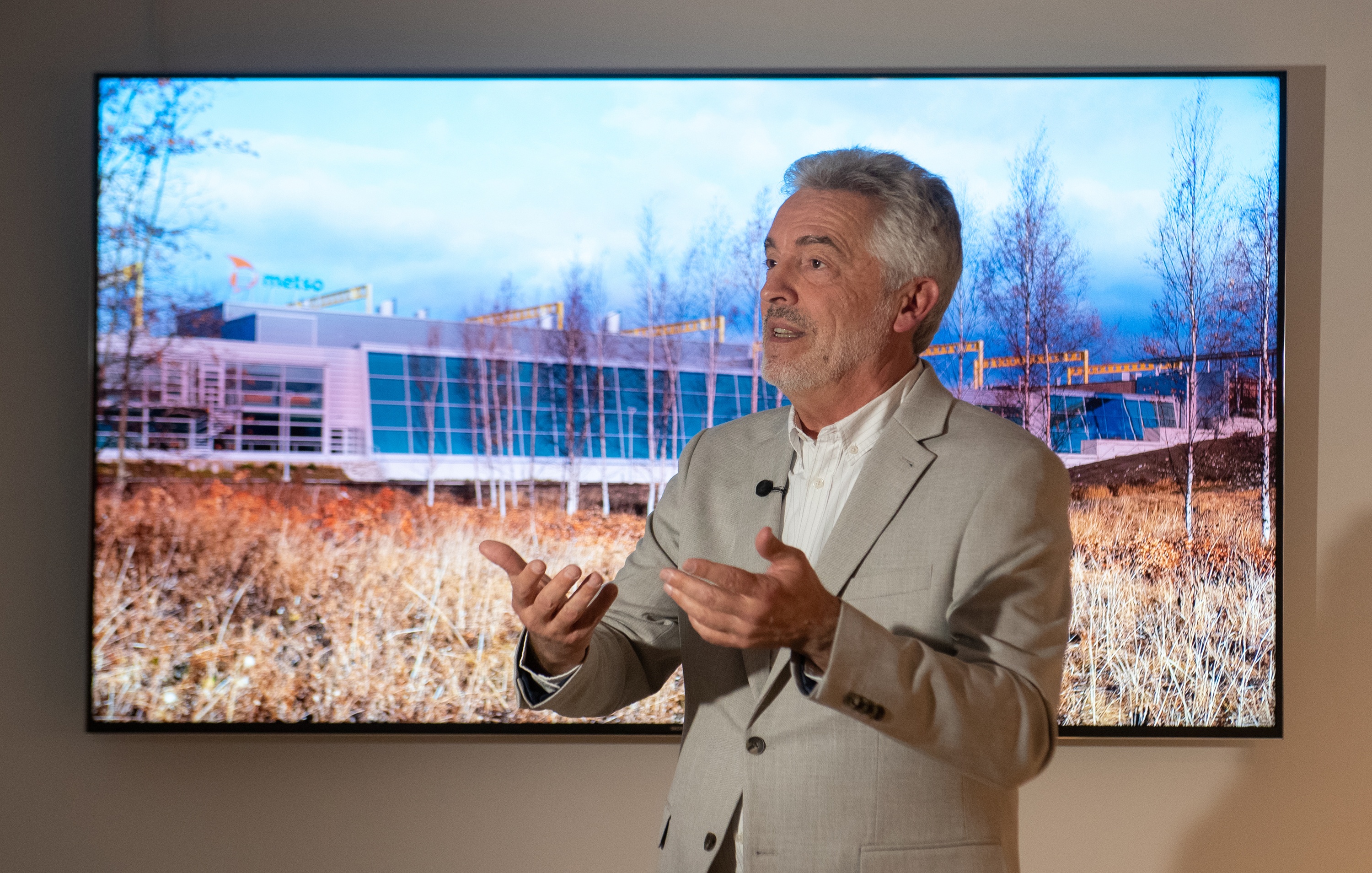 "Distance that Connects" celebrated Bratislav Toskovic's unique career and the two cultures that have nourished it
"Like the moment when the artist moves away from his work to figure out how to proceed" describes Bratislav Toskovic's the lifetime award exhibition that presented his 35-year-long creative journey at Olla Architecture.
In 2022, the Union of Architects of Serbia awarded Olla Architecture's partner and architect Bratislav Toskovic the Grand Architecture Award for Lifetime Achievement. The award ceremony took place in May 2023 at the Belgrade Cultural Centre Art Gallery simultaneously with the opening for the exhibition "Distance that Connects", a one-of-a-kind overview of Toskovic's career.
For almost three weeks the exhibition was a place of interaction between architects as well as people of different professional backgrounds and age groups. The amount of positive energy generated in the space was enormous and tangible. Finnish architecture and architects have always been well known and appreciated in Serbia. Therefore, the exhibition featuring a Serbian architect whose entire career was realized in Finland obviously raised a lot of attention and genuine interest among the visitors and media. The exhibition opening also marked the beginning of the 18th International Week of Architecture BINA, the most comprehensive and respected architecture event in Serbia.
In the following piece, Toskovic shares his thoughts on the exhibition and everything it reflects.
Distance that Connects

"I sat on the floor under the drawing table and played. Rubber bands, stencils, "Letraset" stickers and colorful felt-tip pens were my toys. The smell of yellow "Steadtler" eraser for wiping the ink I still recognize today. They were added to me by my father and his colleagues while they were working on the architectural competition project. I loved the unusual atmosphere that broke the daily routine of our family life. As a four-year-old boy, I never dreamed of becoming an architect. All that mattered to me was playing. Ever since the drawing table in the living room of our Belgrade apartment, this desire to play has not left me to this day."
I have come a long way from Serbia through Iraq to Finland. There, working as an architect all the time at Parviainen Architects (now Olla Architecture), I grew from an apprentice into a leading architect and partner. In Finland, I am one of the few architects of foreign origin who can boast of this. I am unusually pleased and proud that, despite the distance, the connection with the homeland of Serbia has been maintained and developed to such an extent that I was awarded the Grand Prize of the Association of Architects of Serbia for Lifetime Achievement, as I was given the invitation to realize this exhibition as part of the Belgrade International Architecture Week.
Two happy circumstances were crucial for my professional career: the ability to create in continuity and unique projects. Some didn't seem that way at first glance, but I've learned to recognize the unordinary in the ordinary, and so the most ordinary substation has become an architectural creation awarded in world forums. The exhibited projects have been stringed together in the last four decades and are very different in function and character, but at the same time there is a thread that connects them – architectural expression.

I create places – I approach each design task as an opportunity to create a new recognizable place to which architecture gives meaning: an identity that is remembered and recalled. Thus, each completed project corrects a small pixel in the universe and the world becomes a better place for that much.
There are two distant but still close places within me, two cultures that define me as a man and as a creator. To see and understand what connects them, distance is required.
"Distance that Connects" is not a retrospective, but, above all, a self-examination in which the past and the present together form the future. It is the moment when an artist moves away from his work to figure out how to proceed. The 35-year-long creative oeuvre is transformed into a mental landscape where reason and emotion, dream and reality, order, and chaos, unusual and ordinary intertwine. The gallery becomes a place.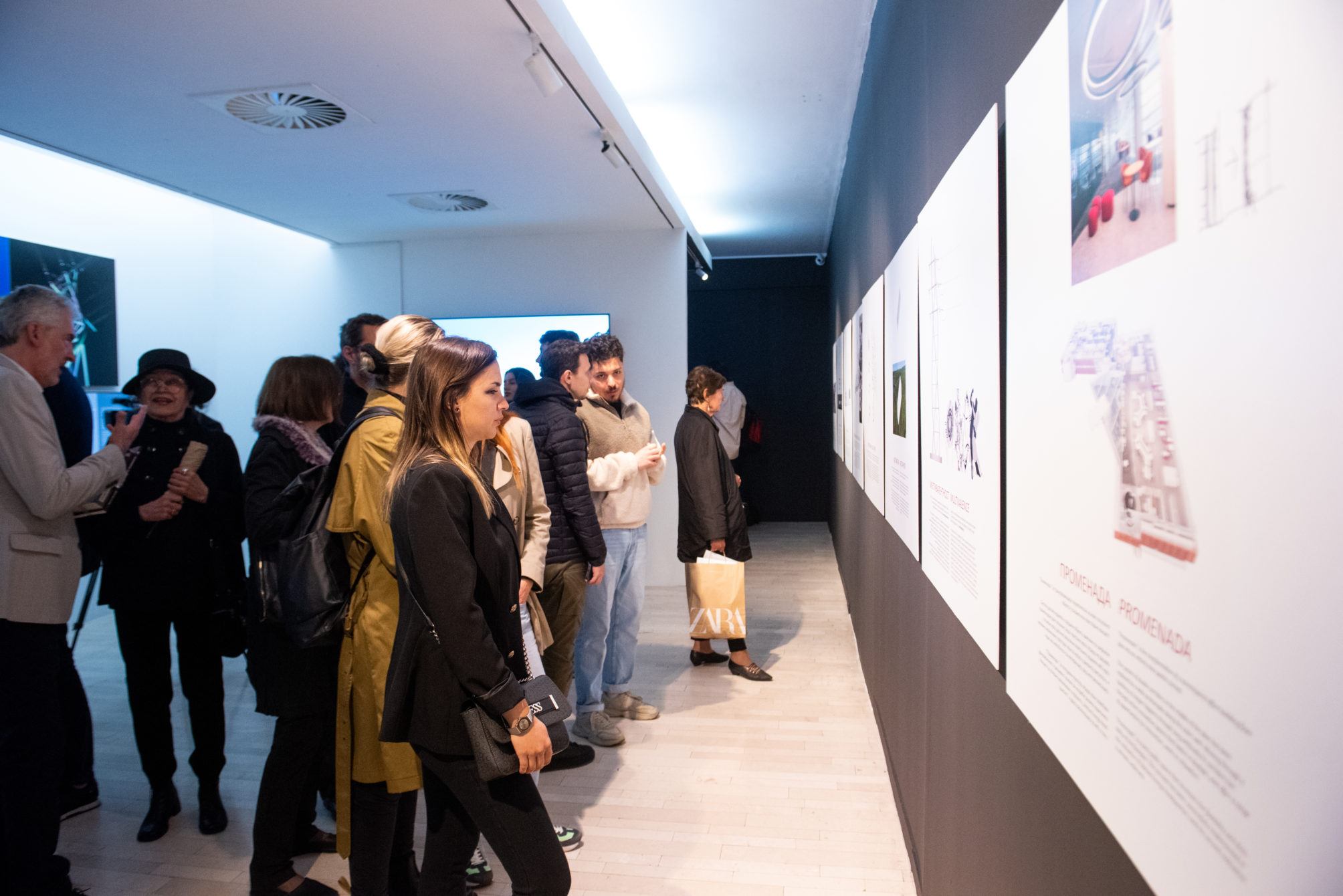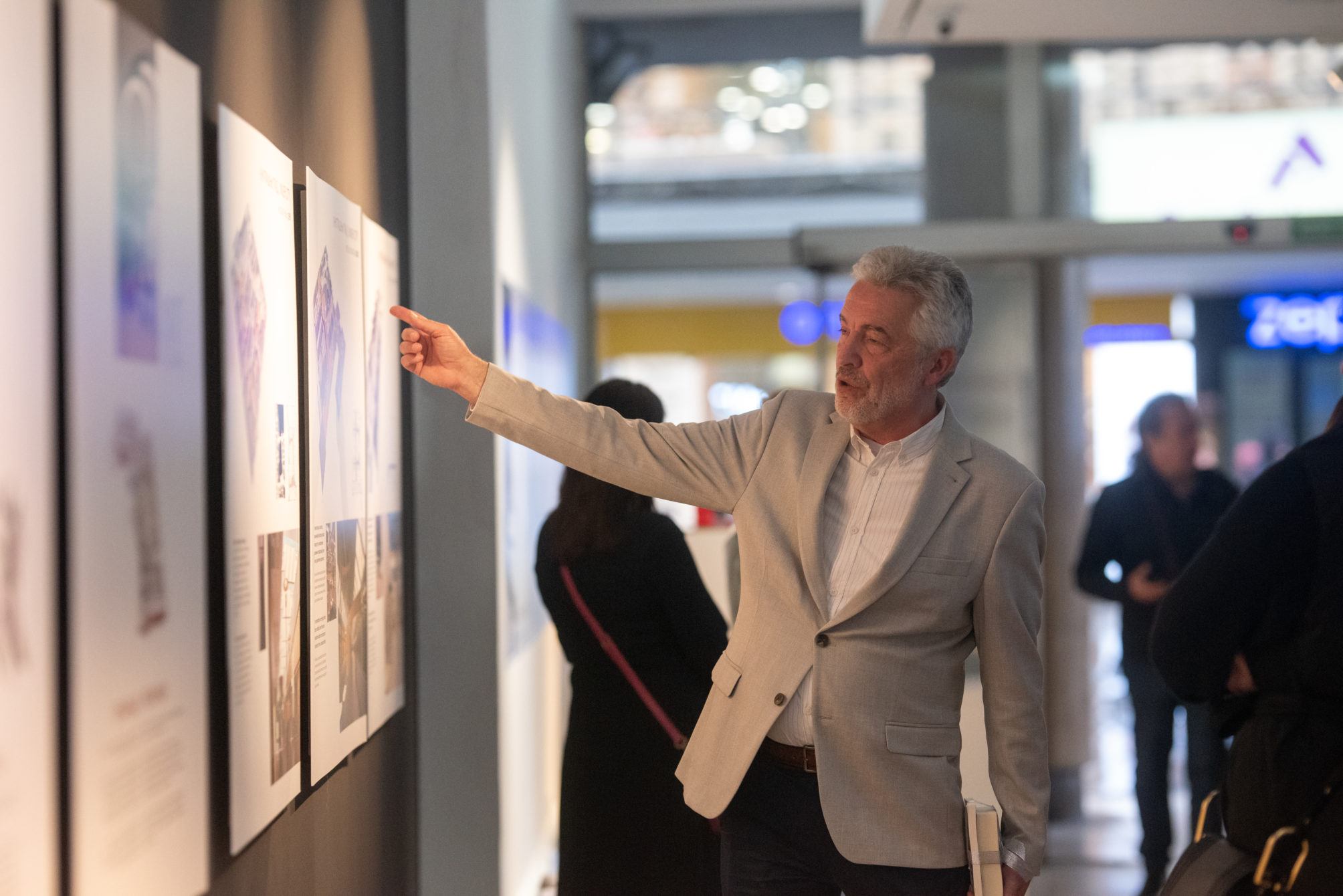 Chronological wall
Of the many projects implemented, fourteen of them with different functions and characters are exhibited in a chronological sequence. Each project, from idea to realization, represents an average of two years in the life of an architect. Projects are lived through. The multitude of visual material that has accumulated over time in each project is displayed on slides. Fourteen monitors in a row form a pulsating timeline that speaks of the continuity of creation, but also allows "deep dive" into each individual project.
Thematic wall
Every building I have designed is inseparable from its context and this makes it special, but at the same time it contains some universal values that transcend the physical boundaries of location, values that as a model of thinking can be transposed into other contexts. Designing is both a process of learning and growing up. After each project, we are richer for one experience, and when projects have been continuously running for 35 years, it is necessary to move away from the "canvas" and "connect the dots" in search of new values and knowledge.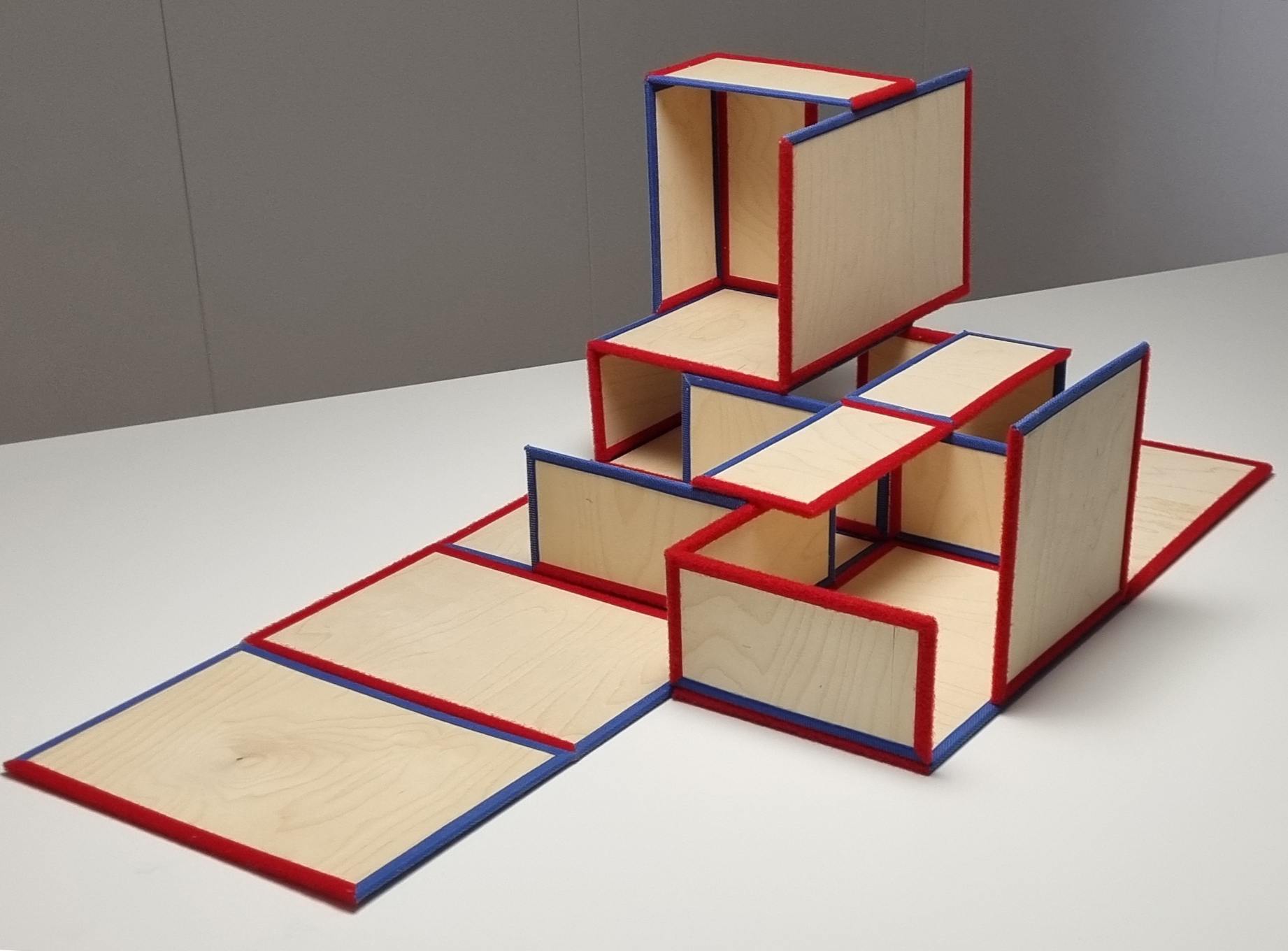 In honour of play
I see architecture as an invitation to play. When Finland experienced an unprecedented depression in the early 1990s, many projects were left to wait and designers sent on forced vacation. A new form of play had to be invented. I created a series of small building elements of assembly toys for which the Foundation of Finnish Inventors gave me money support for further drawing of the idea. Unlike many architecture exhibitions, this setting has no scale models, but it does have two abstract sculptures made of these elements. They are a monument in honour of play.
Play creates a new reality, changing our perception of time and place.
And the best part is, there's no end to it.
Bratislav Toskovic
Partner and architect at Olla Architecture
"Distance that Connects" took place in the Cultural Centre of Belgrade 11.5. – 28.5. 2023. The exhibition and its monographic catalogue where equally realized by Serbian and Finnish sides: BINA, Union of Architects of Serbia – UAS, Association of Architects of Belgrade – DAB, Embassy of Finland, Finnish Art Promotion Centre – TAIKE and Olla Architecture.