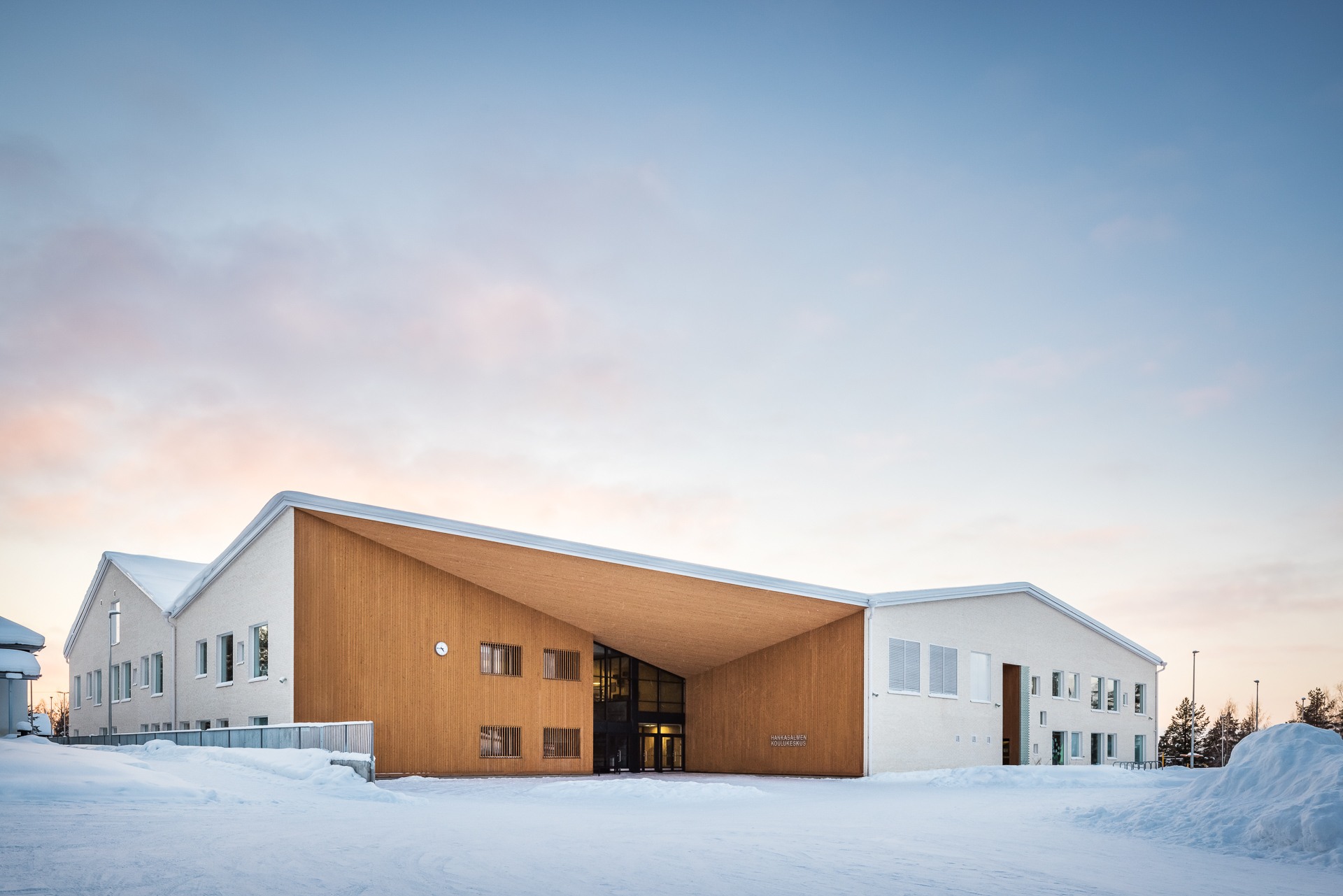 The sculptural school center is the pride of the whole municipality
Hankasalmi School Center
Location: Hankasalmi
Year: 2020
Area: 6000 m²
Client: Municipality of Hankasalmi
Photos: Martin Sommerschield, Kuvio

We design buildings and environments that increase well-being. When designing schools, it becomes clear that we do not just create buildings but also the preconditions for activities, experiences, and encounters. Hankasalmi School Centre was designed to serve all inhabitants of Hankasalmi. The impressively sculptural building functions as an attractive landmark: the school is an inviting public building, a source of pride for the whole municipality.
Thanks to the vibrant and adaptable layout of the new school center, learning and studying can take place in all parts of its facilities. The lobbies have been equipped to function as facilities for art, culture, and sports; the stairs serve as a place for socializing, learning, and performing. References to different kinds of nature themes in the interiors make it easier to move and orient oneself in the building.
Hankasalmi municipality organized a design and implementation competition for a new multi-purpose center at the end of 2018. Proposals for the new center were drawn up by four selected participants. We won the competition in cooperation with YIT Keski-Suomi Oy. The design work for implementation began immediately after the competition, and the building was completed in the autumn of 2020.
Hankasalmi's new school center was built so that the old school building could continue to function safely during the construction work. The location of the new school building was designated by considering the location of the existing school building and other surrounding buildings, sports venues, traffic arrangements, terrain shapes, and cardinal directions.
The new school center, which serves all the citizens of the municipality, appears as an inviting public building in its surroundings. The calm facades and the wooden entrance tie the building to its surroundings in a peaceful, yet fresh way. The natural and calm coloring of the facades does not dominate its milieu too much. The extensive wooden surfaces, on the other hand, tie the building to the nearby Hankasalmi church.
The squares, courtyards, traffic, and parking around the center create a clear, controlled, and safe entirety. The red-brick daycare building is a sympathetic part of the larger whole. The church tower can be seen through the entrance from the multifunctional lobby, and from the large glass wall leading to the school yard opens a view to the lake.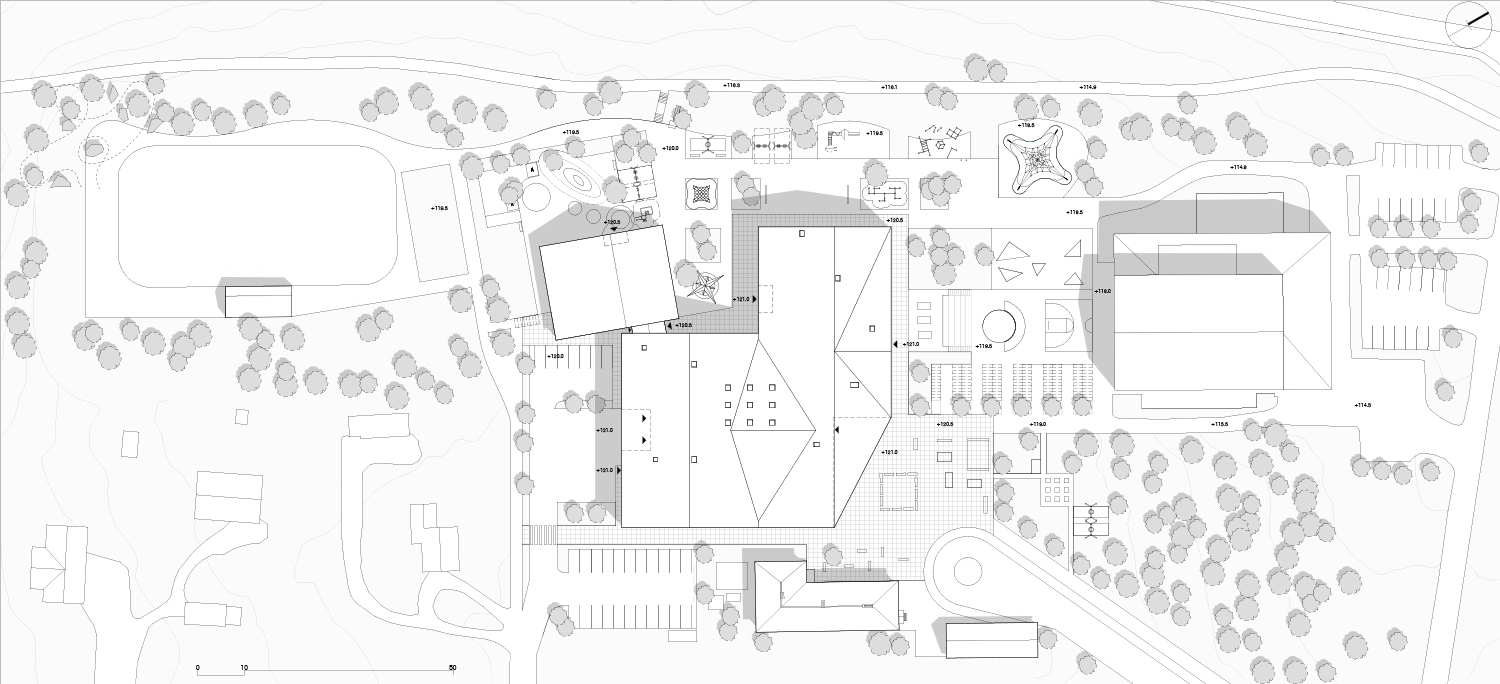 Graceful and compact
The compact mass of the school center utilizes the space efficiently, leaving enough area for the yards. Slightly separated from the rest of the building, the one-level kindergarten part lightens the scale of the building, making it both impressive and easy to understand.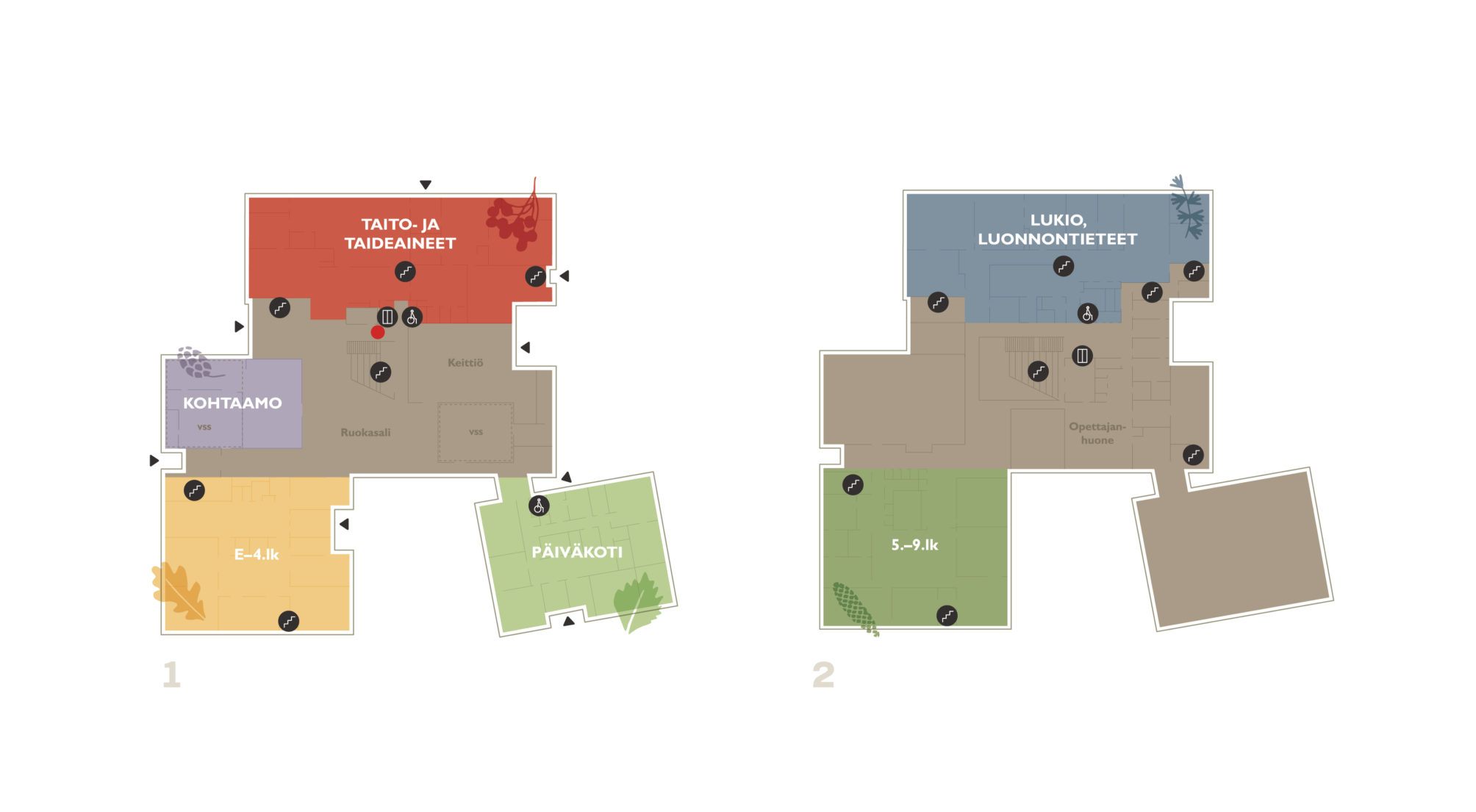 In the school center, each space has its own color and material inspired by a specific tree
Hankasalmi is famous for its wood industry. Navigating the building is based on wood themes, which makes it easier to move around.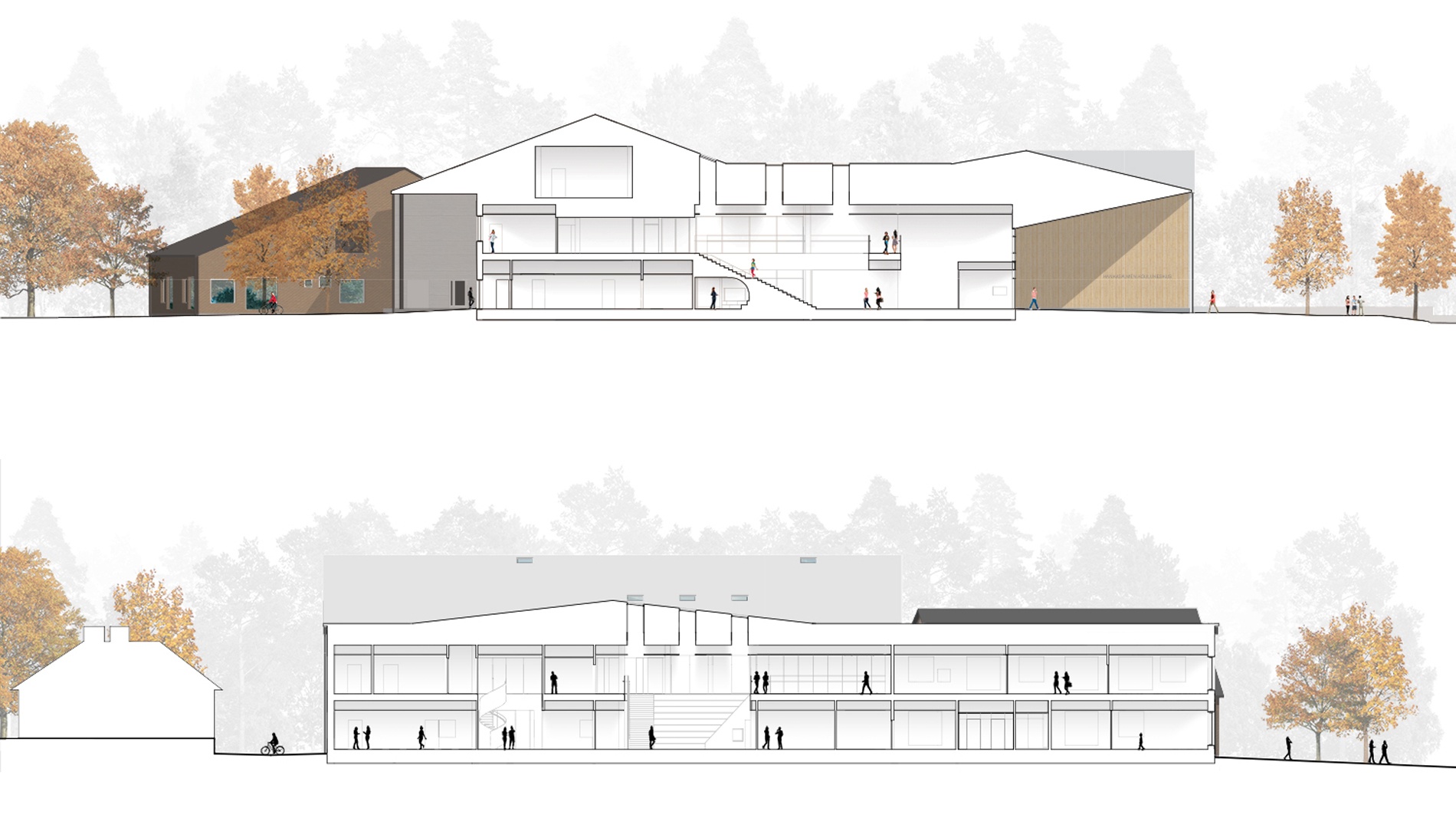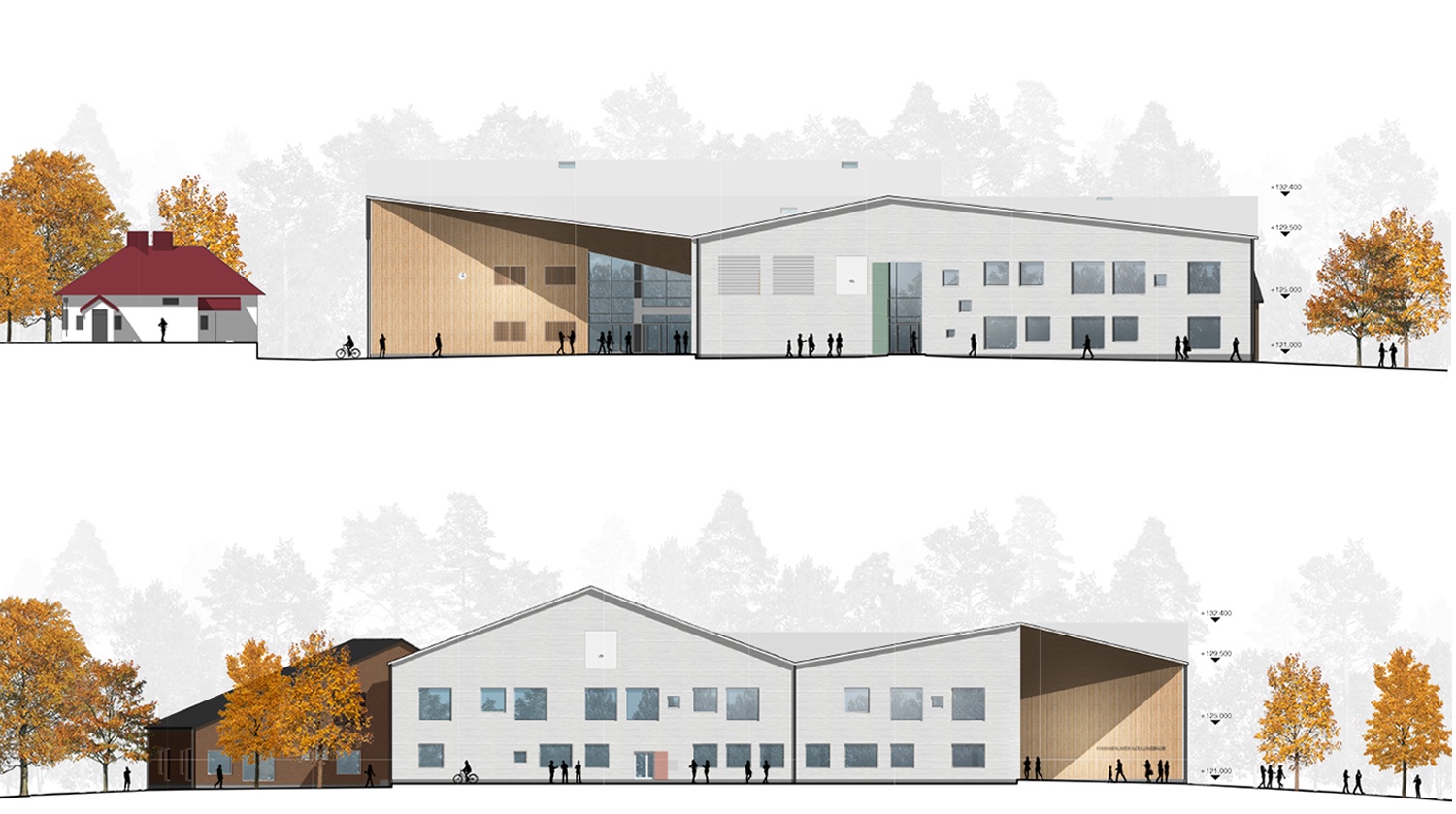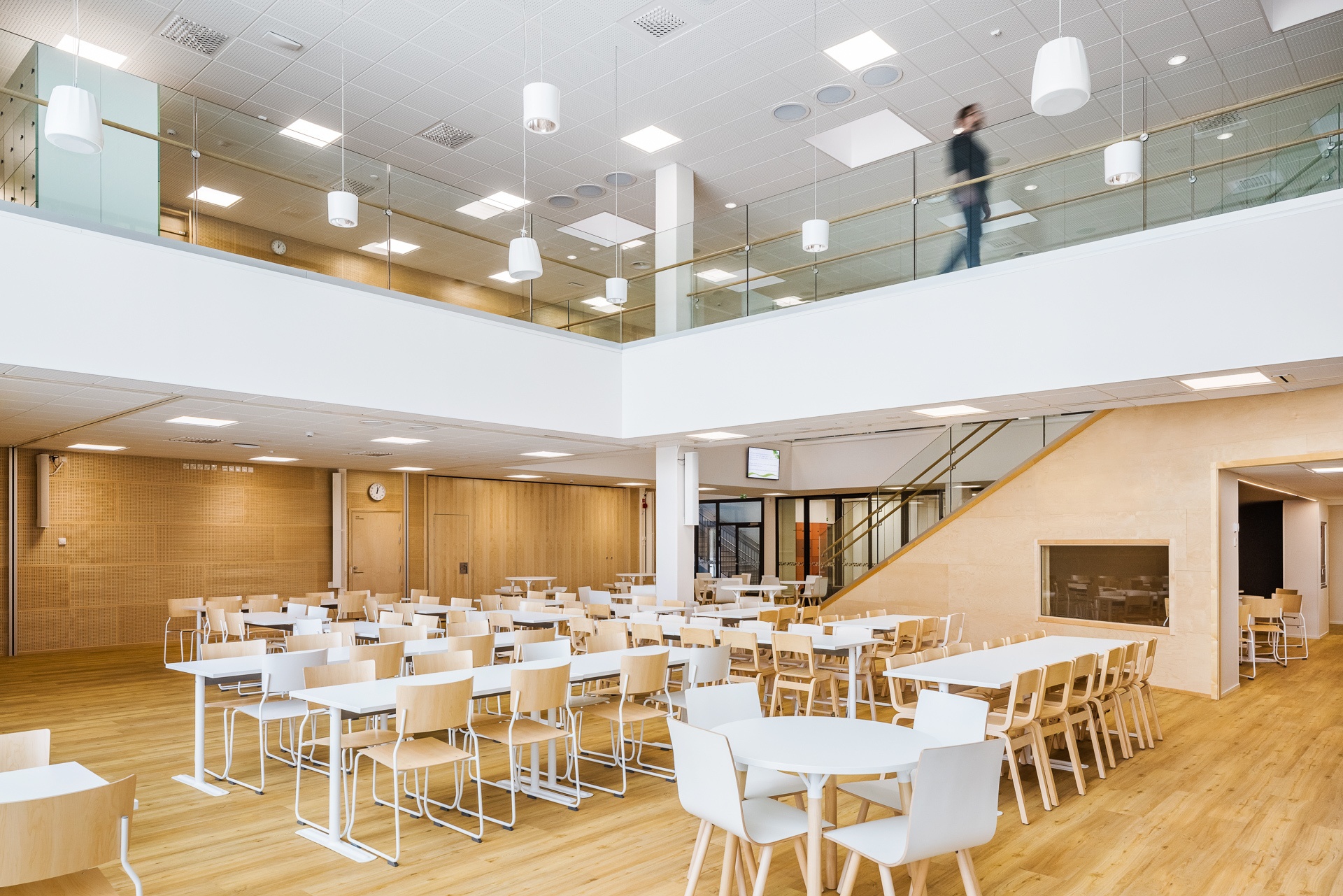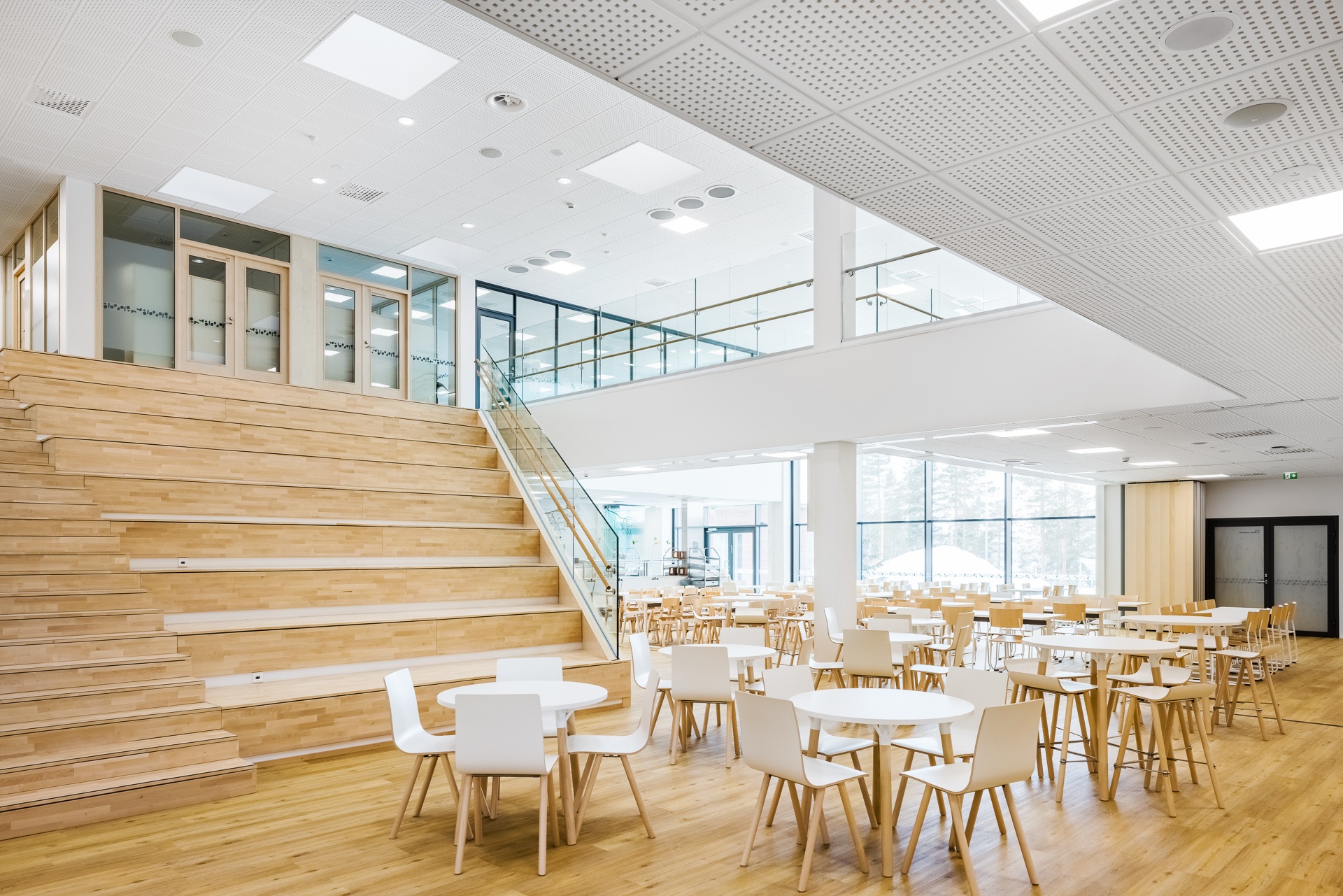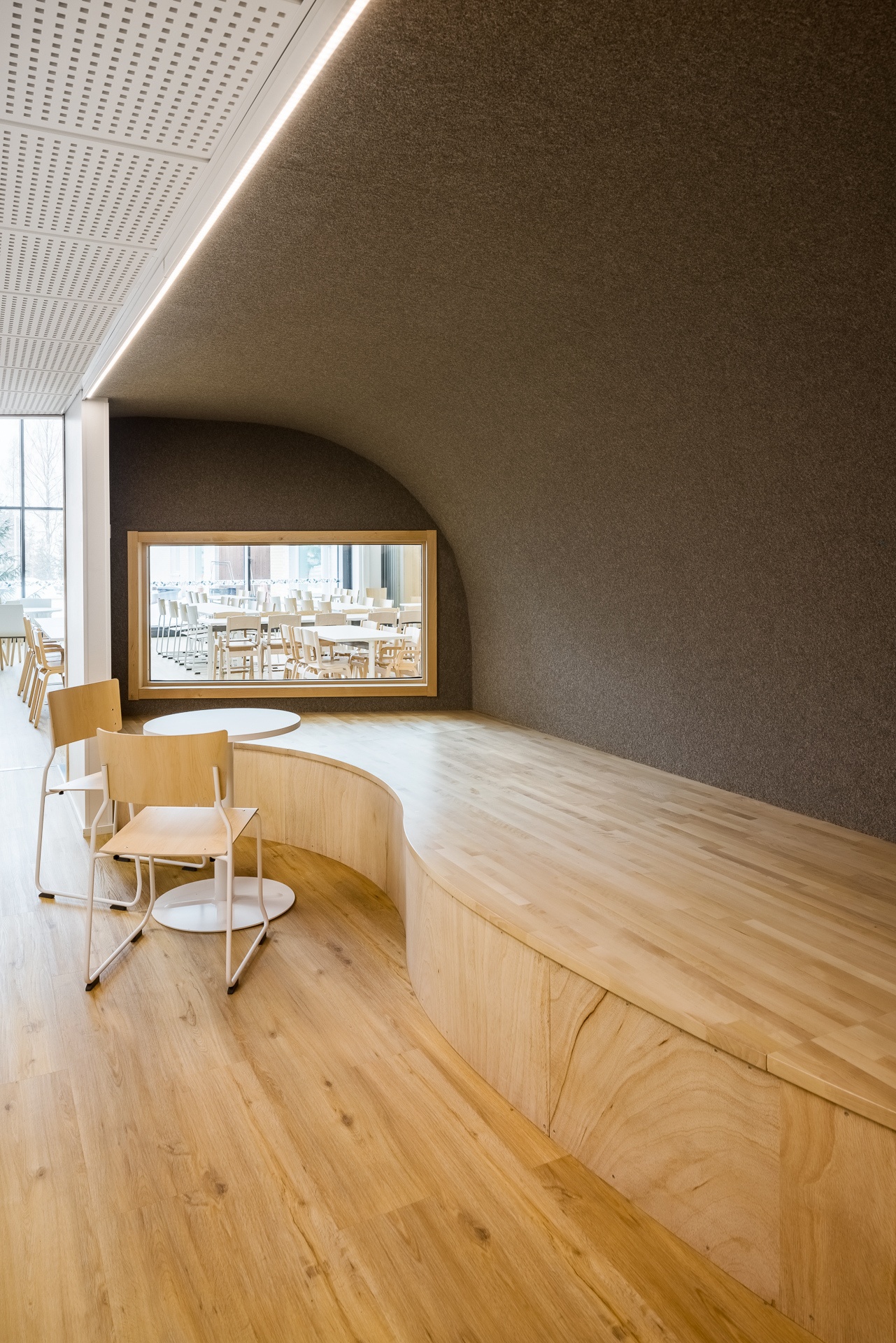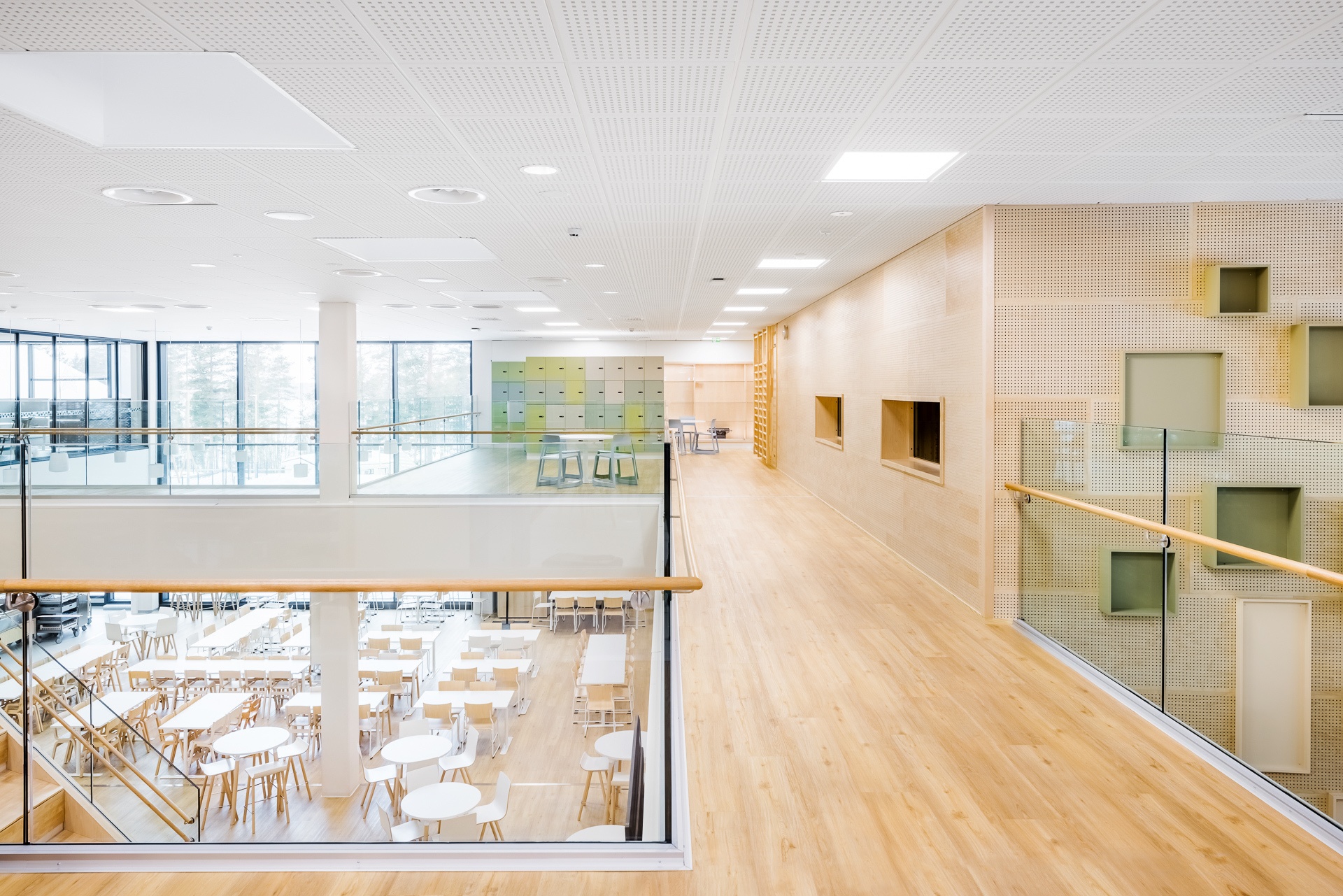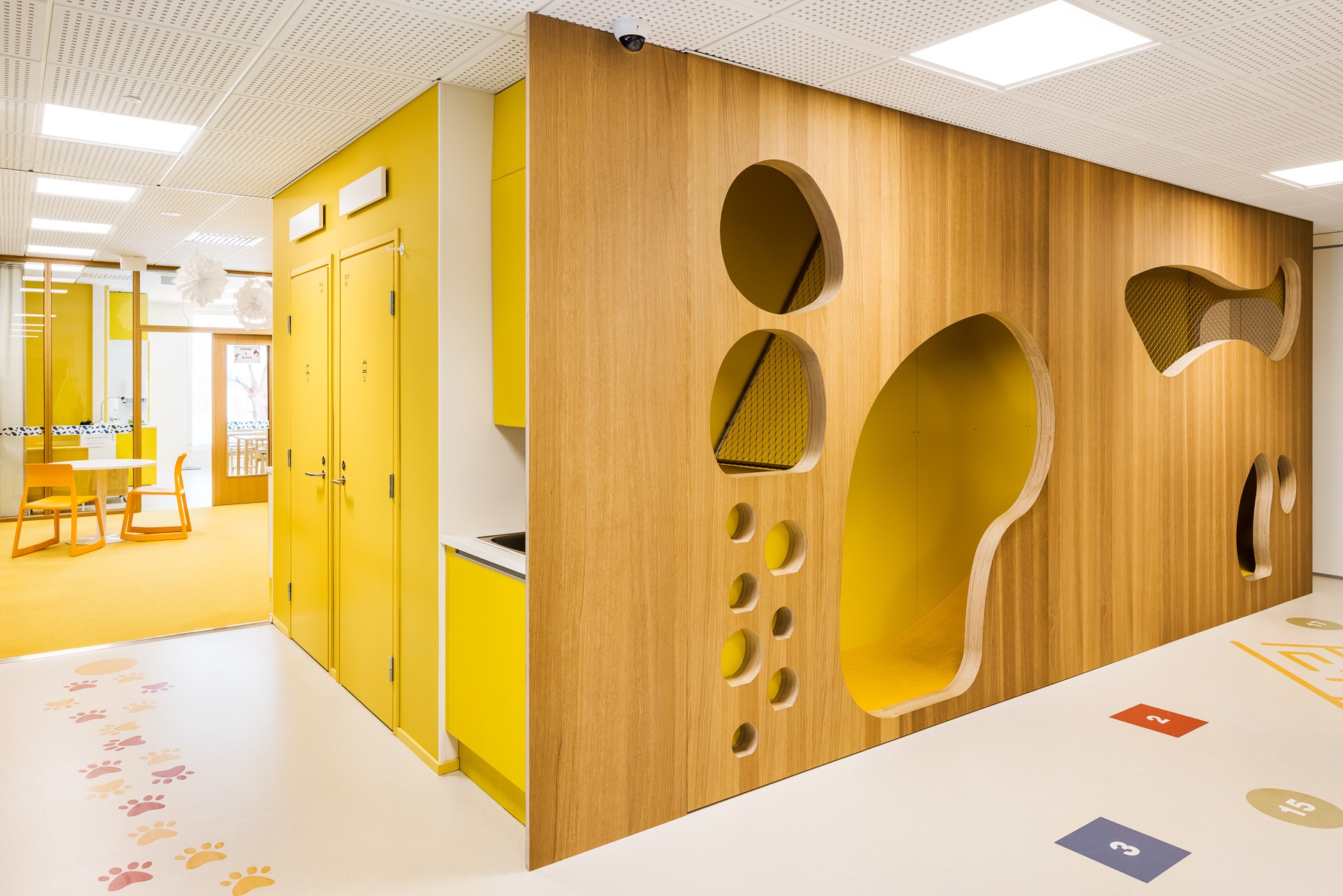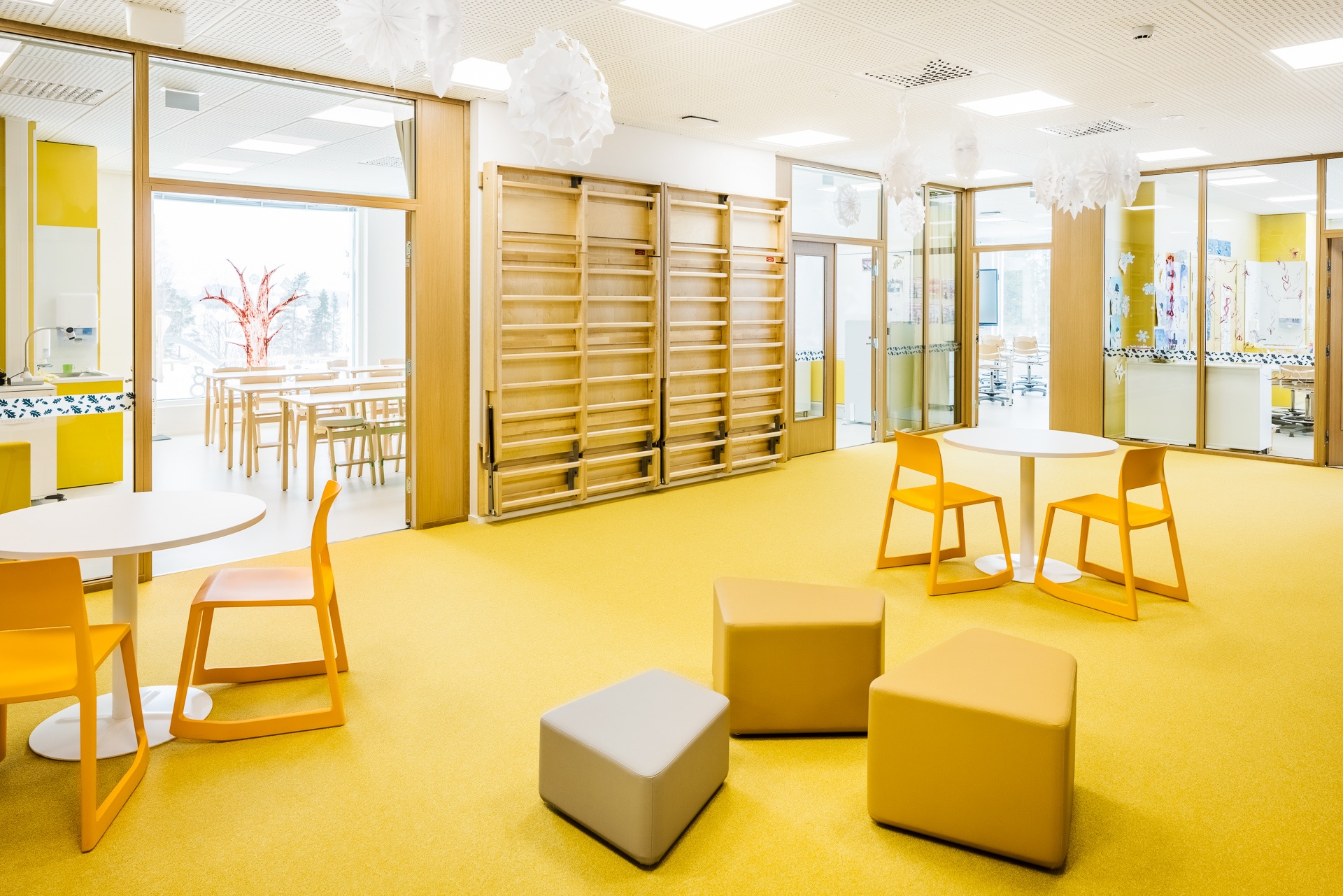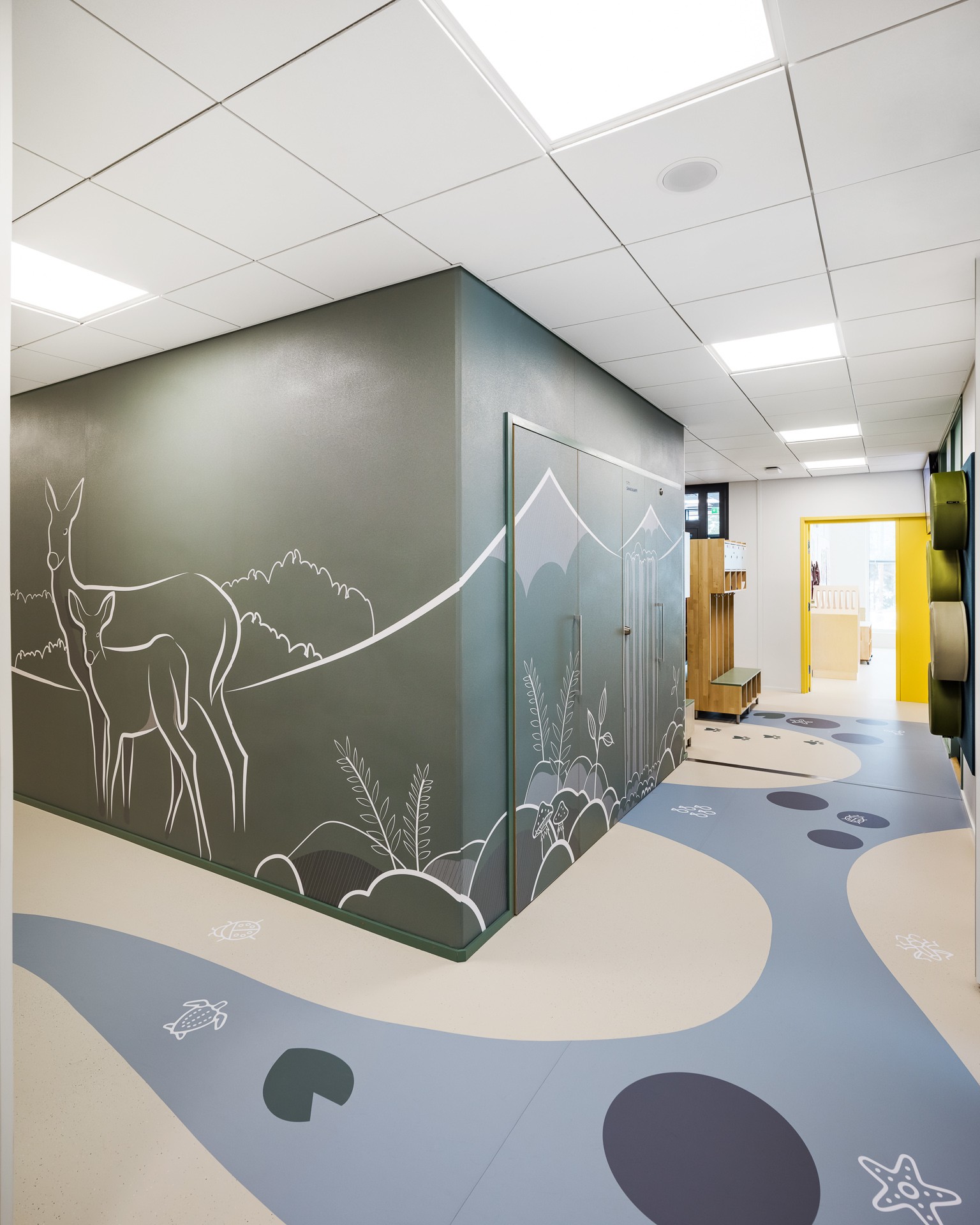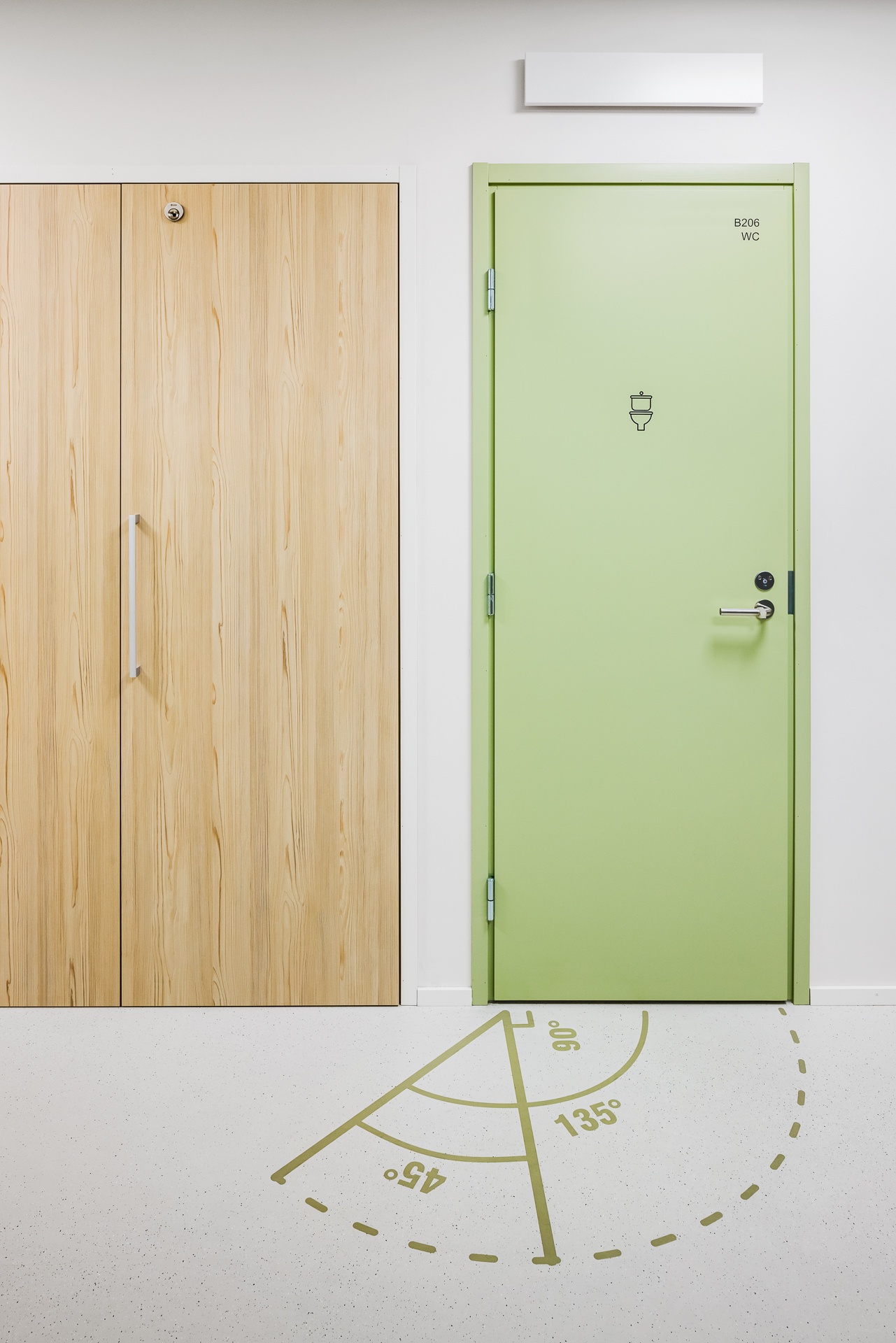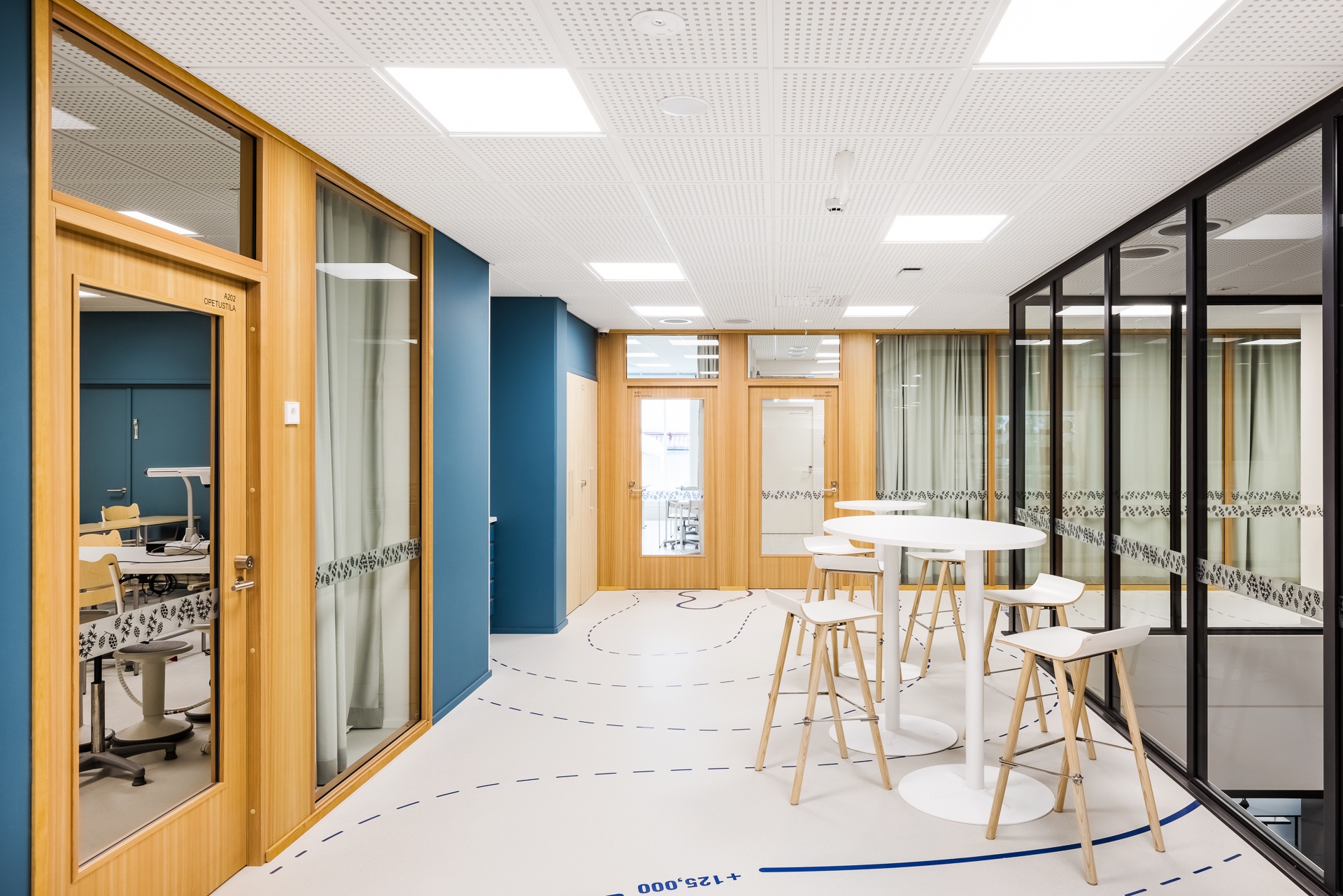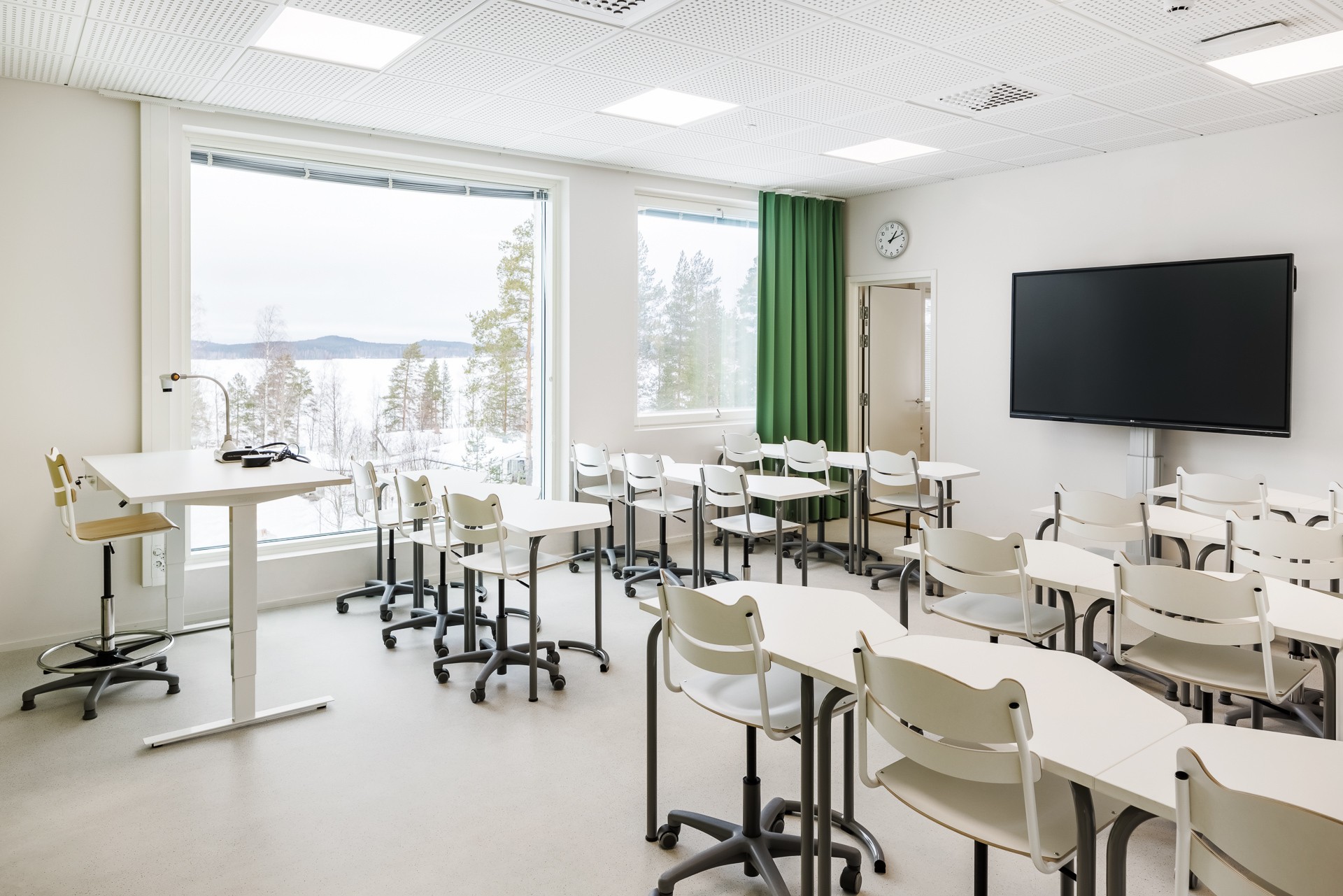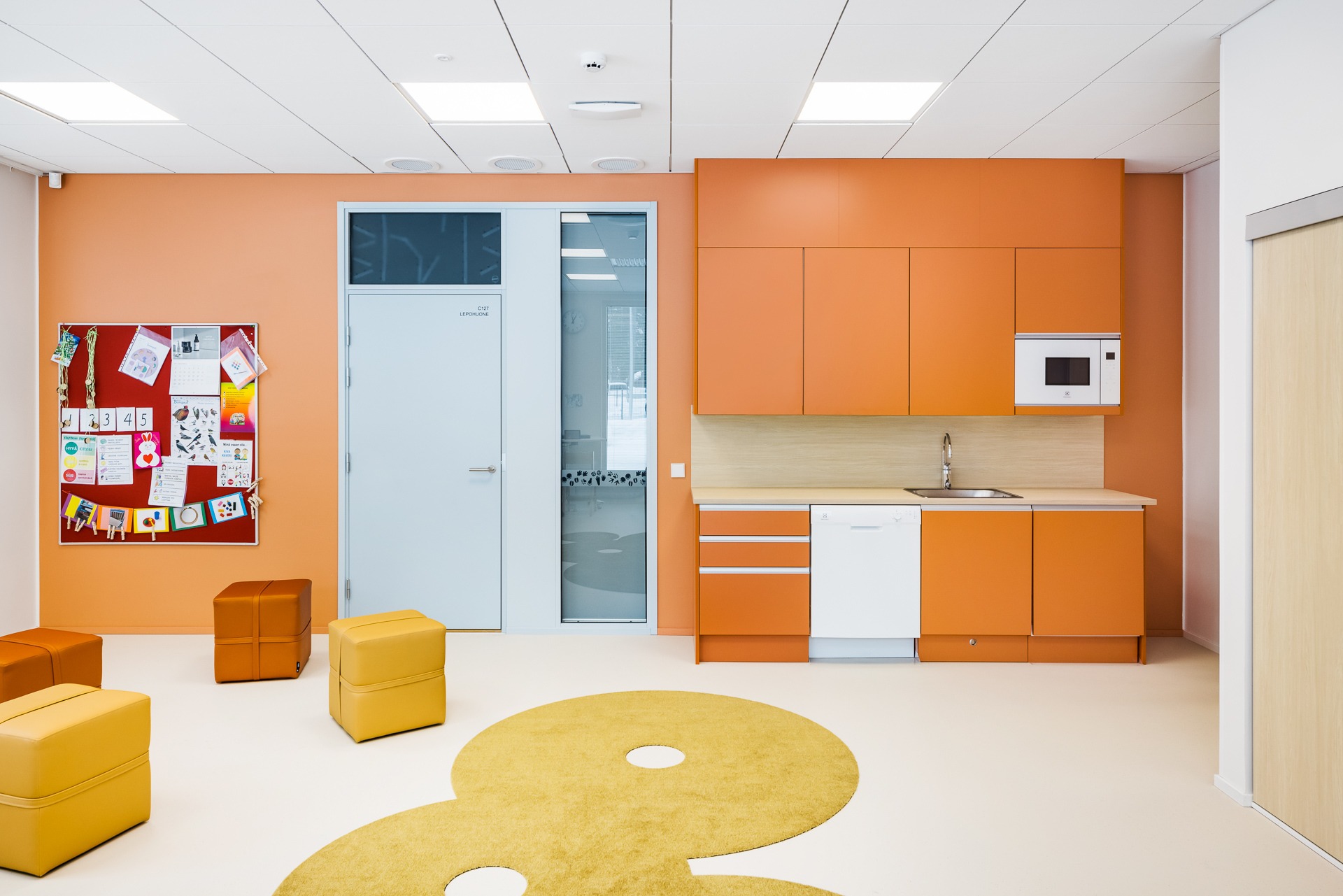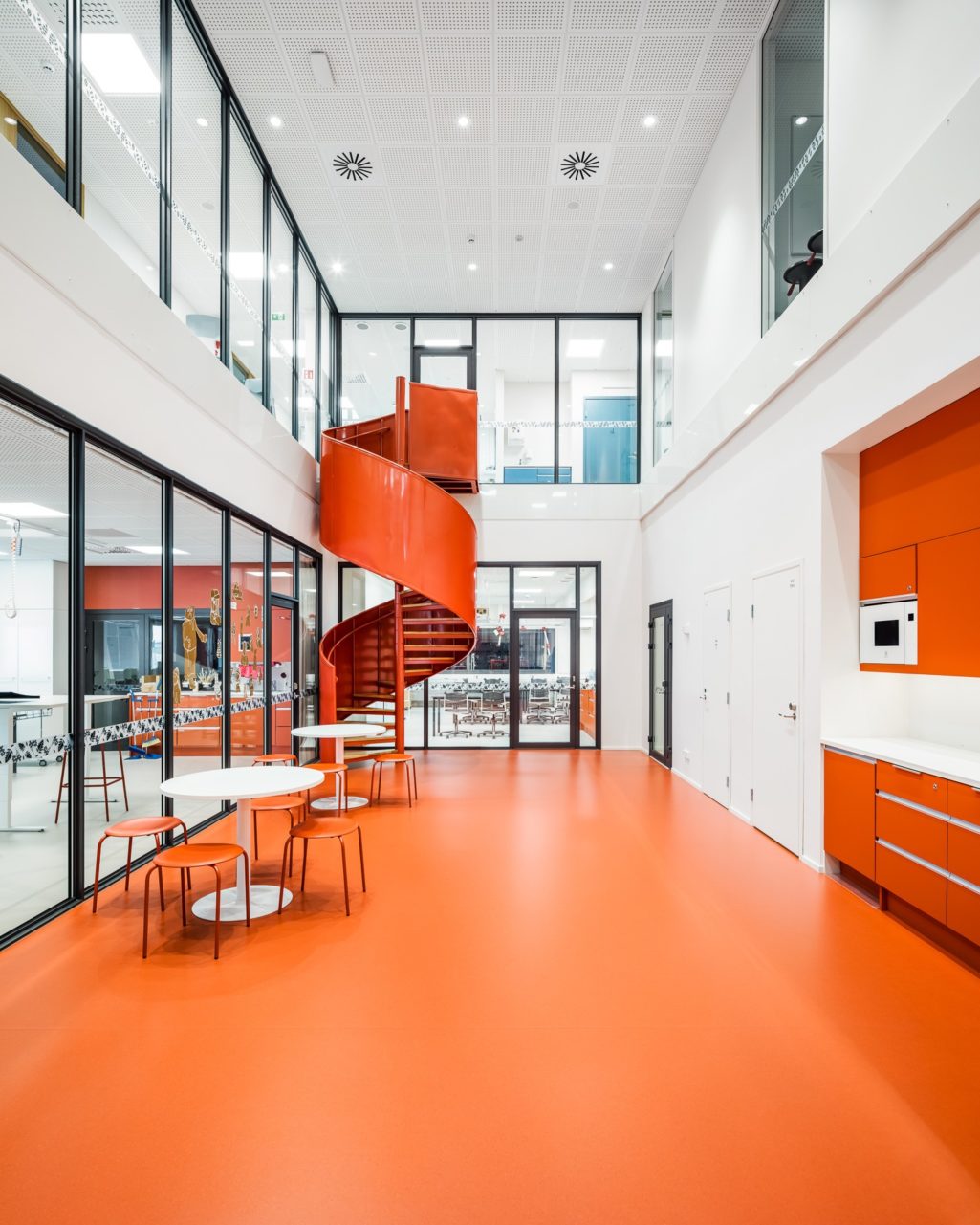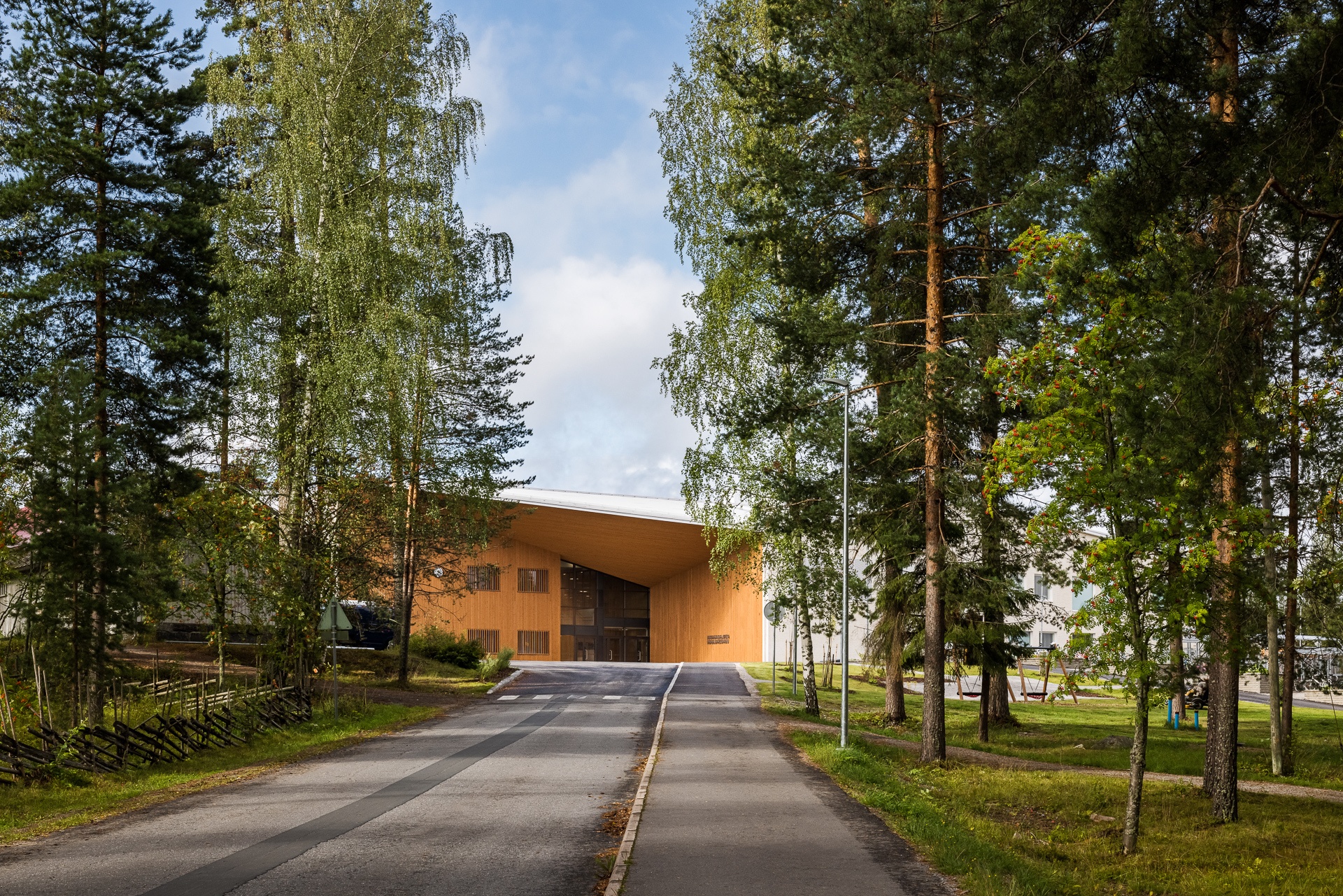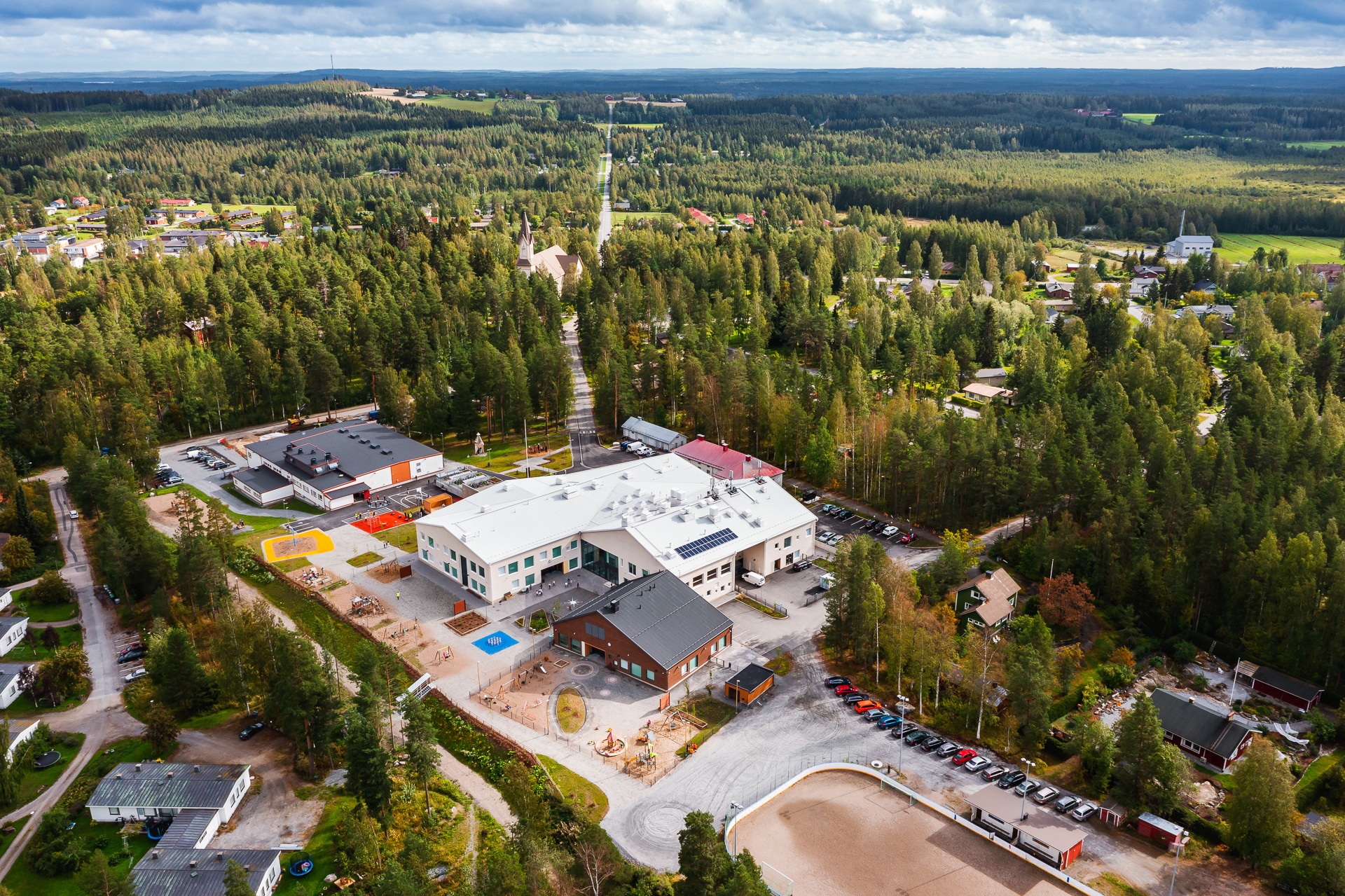 Lue lisää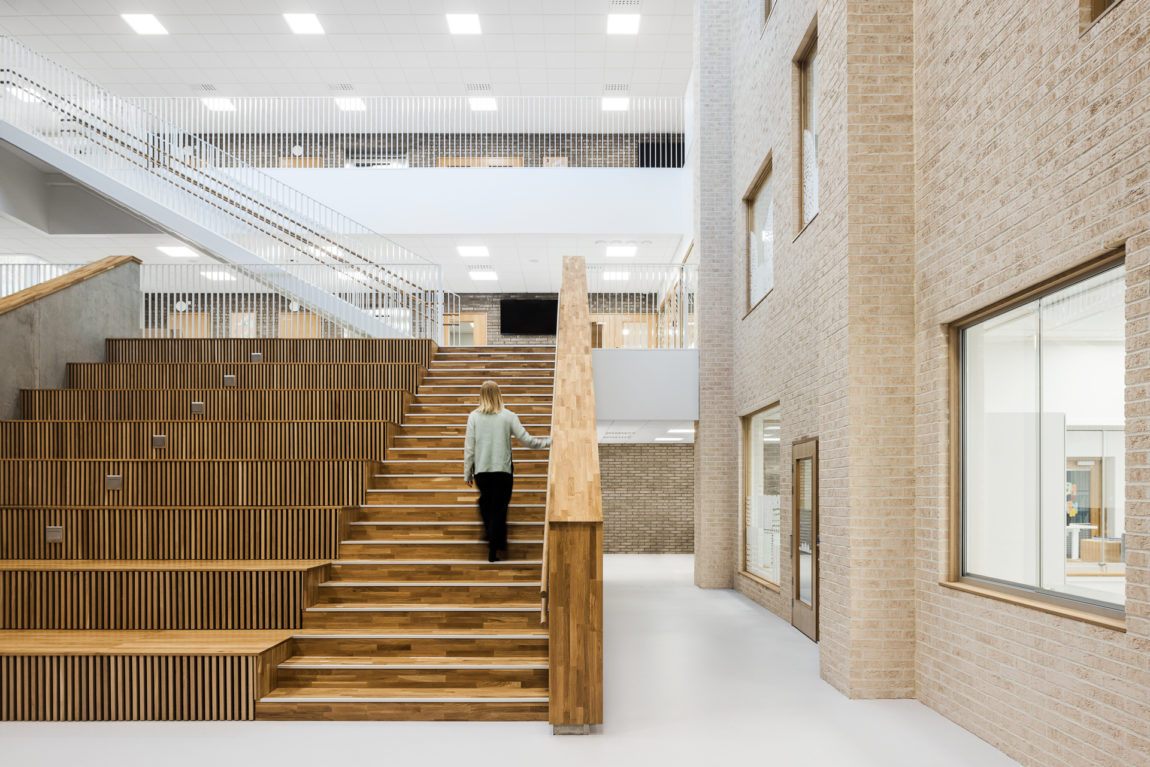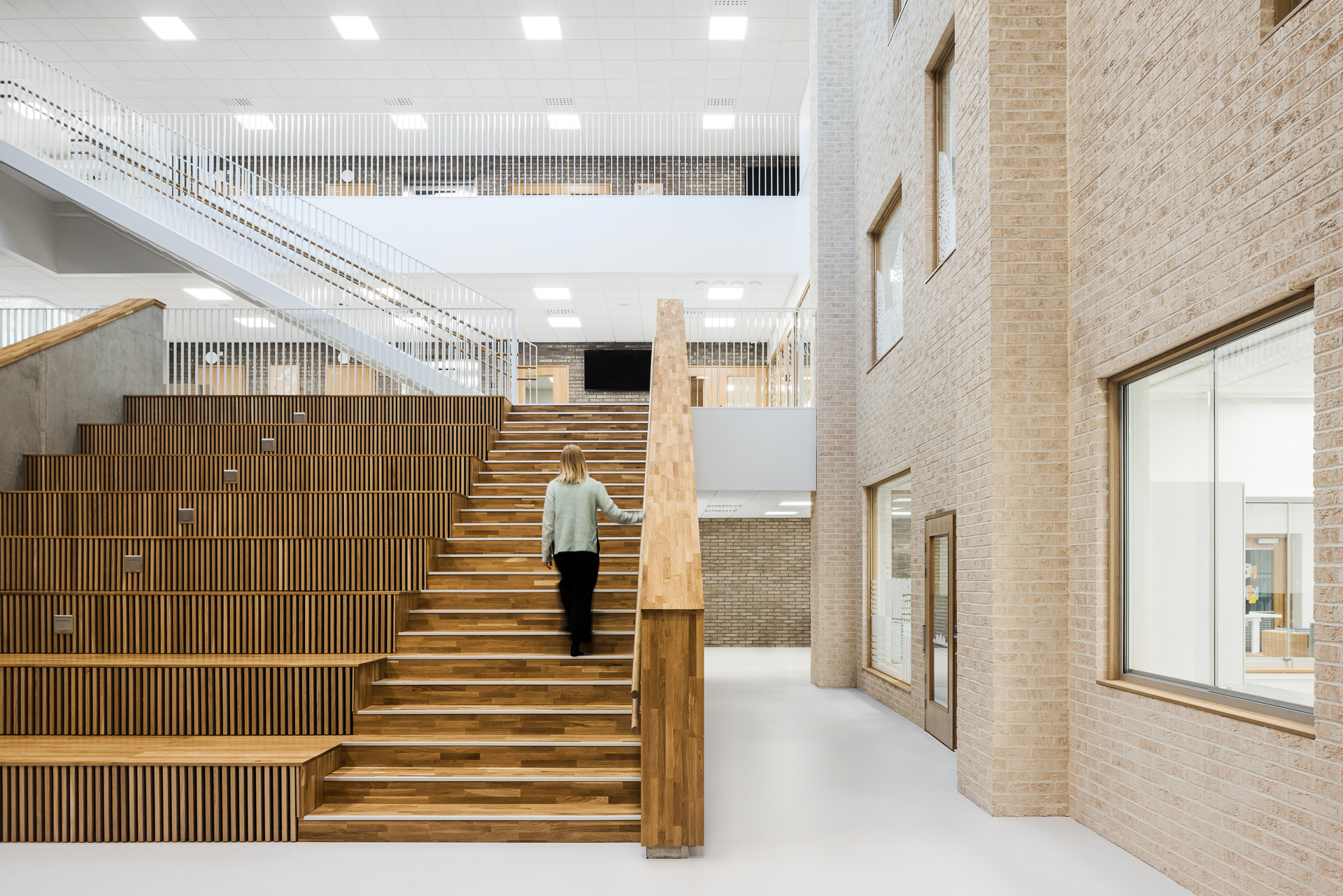 The Forssa multipurpose centre Akvarelli